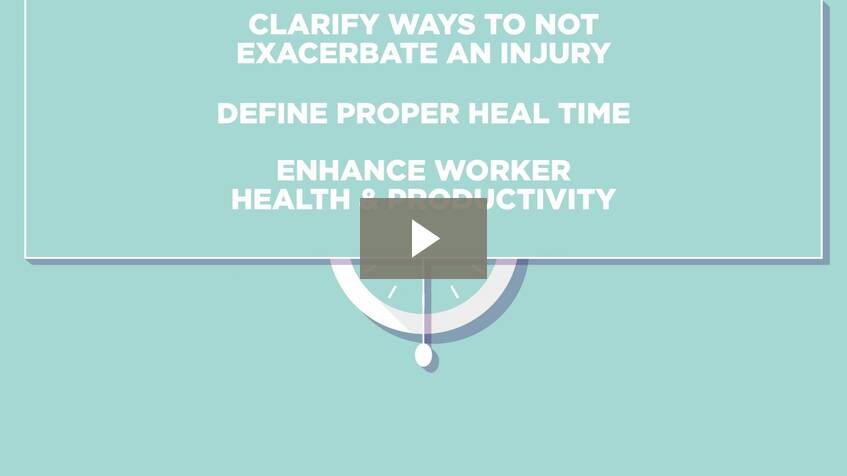 WorkCare's customized Onsite Services & Clinics allow health professionals to work closely with employees to appropriately manage their care, improve outcomes, and reduce injury- or illness-related absence.
Our onsite services are designed to streamline employee access to care, encourage healthy behaviors, prevent injuries, manage work-related and personal health care costs, and enhance worker health and productivity. These services help reduce absenteeism, disability, employee turnover and health care costs.
Onsite clinics may be permanent, temporary or mobile. Clinic staff may perform a variety of services. Clients may choose WorkCare to provide comprehensive services or select from services including:
Health risk and medical surveillance exams
Pre-placement medical evaluations
Drug screening
Hearing conservation
Respiratory compliance
Emergency response team training
Episodic urgent care
Travel medicine and immunizations
Ergonomic worksite evaluations
Wellness programs (screenings, health fairs, health education, etc.)
Disability management
Policies and protocol development
Maintenance of confidential electronic medical records
Consulting medical director
After-hours support
Onsite Clinic Models
Our onsite clinic models are adaptable. Examples of our most popular onsite models include:
1. Full Service Occupational Medicine Clinic
Full- or part-time staff
Physician visits periodically
Occupational health services only
After-hours support
2. Alternative Solutions
Our alternative clinic models are ideal for companies in need of non-traditional, flexible onsite clinic solutions.
Virtual Clinic
Requires minimal space
Secure door entry
Over-the-counter medications
Telephonic access to clinicians
Telehealth Occupational Medicine
WorkCare paramedic or client paramedic supported by 24/7 telephonic coverage
Fit for duty, return to work, injury care and monitoring, case management and wellness monitoring services
Considerations for Onsite Clinics
Onsite clinics can be an effective injury management tool. Issues to consider include:
Budget
Space
Location (remote/multi-locations)
Number of injuries
Workforce demographics
Joy of Flex™
A Sustainable Injury Prevention Solution
Joy of Flex™ is a comprehensive workplace stretch and physical conditioning program developed by a team of occupational health professionals to help prevent work-related musculoskeletal disorders (MSDs) that contribute to work absence, higher medical and claims costs, and increased potential for disability.
The program features exercises to warm employees up at the beginning of their shift and reduce injury risk. Joy of Flex™ leverages train-the-trainer leadership and a group dynamic to build camaraderie and investment in personal health and well-being.
The program is scalable and customizable. It may be offered as a stand-alone program or in combination with other WorkCare injury prevention and management solutions.
Program components include:
Orientation – Successful program implementation begins with management commitment. Senior executives and front-line managers get involved early in order to underscore the value of the program throughout the enterprise. The orientation process features:
Supervisor participation in launch of Joy of Flex™ program in their assigned areas to encourage employee buy-in.
Reinforcement of injury prevention initiatives such as drug-free workplace, ergonomic. assessments, safe-lifting techniques, personal protective equipment and good hygiene.
Emphasis on three key concepts: acceptance, adherence and positive attitude.
Train-the-Trainer Workshop –Joy of Flex™ program is most successful when it occurs daily. Onsite stretching sessions are led by a peer or immediate supervisor. Our train-the-trainer workshop is designed to:
Prepare peer leaders and supervisors to lead daily calisthenics sessions.
Help session leaders identify and manage reluctance to participate.
Consistently reinforce benefits of Joy of Flex™ program.
Encourage teamwork and watching out for the well-being of others.
Health Promotion Tools – Multi-media and web- enabled tools are used to reinforce Joy of Flex™ program and general employee wellness:
A password-protected web portal links to the company's customized Joy of Flex™ program.
Program information may be sent via email to employees as part of health and safety campaigns.
Posters are available to encourage participation, positive reinforcement and remind employees to be proactive about their own health.
Online Q&A "Ask the Doctor" questions answered monthly.
Joy of Flex™ wallet cards feature exercise reminders to prevent the most commonly occurring MSDs.
Program success is monitored using metrics such as participation, declines in MSD reporting rates, increased productivity and higher employee satisfaction scores.
Let us help you develop the optimal delivery model for your organization!